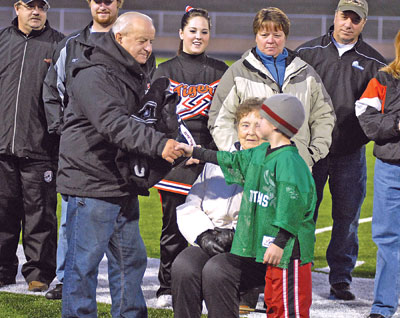 Louis Schmitz's Legacy Keeps Giving Back
By Theresa Malloy, SunThisweek
Published May 30, 2013
Family, friends and alumni create Louis Schmitz Foundation to offer scholarships
When Louis Schmitz died in late December 2011, Farmington lost a legend who gave so much back to the city he called home for more than 58 years.
In October 2009, Louis Schmitz was honored for his work with the Farmington youth football program on the Farmington High School field prior to the team's football game against Northfield. Family, friends, coaches, and fans gave Louis various gifts and signed a banner in his honor. (Photo by Rick Orndorf)
In October 2009, Louis Schmitz was honored for his work with the Farmington youth football program on the Farmington High School field prior to the team's football game against Northfield. Family, friends, coaches, and fans gave Louis various gifts and signed a banner in his honor. (Photo by Rick Orndorf)
His legacy as a pioneer of youth sports in Farmington and founder of the hockey program continue to live on. But those who knew Schmitz best were inspired to carry out his mission of giving back through a foundation in his name.
"One of his philosophies was that if a kid wants to play sports, money shouldn't be the reason they can't play," said son Randy Schmitz.
His father would find equipment and help find ways to pay for fees of youths who could not afford sports.
After Louie Schmitz's funeral, former players and his nine children began talking about carrying on this legacy and the idea of the Louis Schmitz Foundation was born. Now more than 30 people sit on the committees that decide how to donate money in Louis Schmitz's honor.
"It's great to sit down and listen to the stories.," Randy Schmitz said. "What's great is you have a bunch of people appreciative of someone who can help in a small way, but he didn't expect anything in return. It was never about him. It's about giving people opportunities."
With this idea in mind, the money raised will go back to the community in three different ways: through two $2,000 scholarships for a male and female student at Farmington High School who have athletic or volunteer experience, financial assistance to youths who cannot afford participation fees, and a community project fund.
The foundation donated $500 at the May 20 City Council meeting to help pay for Parks and Recreation fees.
"Dad believed (kids) should be involved or active in sports," son Bobby Schmitz told the council. "He saw sports as a way to change lives."
The annual contribution will forge a new partnership between the city and organization.
Mayor Todd Larson said Louis Schmitz was one of the first adults he met when he moved to Farmington at age 10.
"He never got mad at us," Larson said, describing memories of a chaotic bus ride to an early morning ice time at a totally foggy rink. "Louis said things could be worst."
Larson also shared how Louis Schmitz always said to warm freezing feet by taking off your skates and running two laps around the warming house."
It's these stories that help continue to keep Louis Schmitz's memory very much alive in Farmington.
"We want to keep that alive because he had some great experiences, and we all had great experiences," Randy Schmitz said. "When they talk about memories, it's not about the wins, the losses and the scores."
And how would Louis Schmitz react to this?
"Dad was pretty humble, and he would be humbled by it," Randy Schmitz said.
The foundation raises money through a golf tournament. The second annual tournament is at 11 a.m. Friday, June 21, at Southern Hills Golf Course and still has a few spots open. For more information on the foundation, visit louisschimtzfoundation.org.