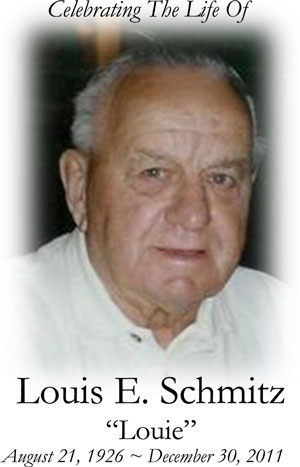 Louis Schmitz, Farmington hockey pioneer, died Dec. 30
By: Nathan Hansen, The Farmington Independent
Louis Schmitz, who helped start Farmington's first youth hockey league and organized the city's first girls hockey program decades before the sport was recognized at the high school level, died Dec. 29 from complications related to stomach cancer.
Schmitz, 85, was at home when he died. He was born to John and Anna Schmitz Aug. 21, 1926 in Red Lake Falls.
Schmitz served in the Navy during World War II. He came to Farmington in 1954 when his job transferred him from Red Lake Falls. It didn't take long before Don Clark, a fellow hockey enthusiast Schmitz had met a year earlier, asked the newcomer to start a youth hockey program. Just a few weeks later there were more than 50 Farmington kids signed up to play.
"I loved working with kids," Schmitz said in a 2008 Independent article. "It was a pleasure at the time. It wasn't work for me."
The league grew quickly. Schmitz served as coach, and he eventually developed several levels of hockey in Farmington. He also played a role in the creation of youth baseball and softball programs, and he continued to run the youth football program he founded into his 80s.
Schmitz started Farmington's first girls hockey team in 1965, 30 years before the sport was recognized by the Minnesota State High School League. He continued to coach girls teams at several levels over the years. He was inducted into the Women's Hockey Association Hall of Fame in 2005.
Keith Revels was the coach of the Farmington High School girls team when it started play in the 1995-96 season, the second year the sport was recognized by the MSHSL.
FHS was one of the first 50 schools in Minnesota to offer a girls team, and Revels said Schmitz was a big part of making the program a reality.
"He was right there and he was helping to organize fundraisers," said Revels. "He was a tireless advocate and just a great advocate for youth sports in Farmington in general, but most notably the hockey teams."
Revels had Schmitz as a coach when his family moved to Farmington in 1976. If you played youth sports in those days, Revels said, there was a pretty good chance Schmitz was your coach at one point or another.
"Basically, Louie was the coach," Revels said.
Since 1998 the FHS girls hockey program has paid tribute to Schmitz with its Louis Schmitz Holiday Classic tournament, held in December at Schmitz-Maki Arena, which was named for Schmitz and fellow Farmington hockey pioneer Al Maki in 2005. At the time the FHS boys program held a holiday tournament named after Maki, so when the girls team added a tournament of its own Revels said it made sense to name it for Schmitz.
"It was pretty special to be able to work with him to get the girls program going," Revels said. "He's a Farmington icon, and has so much respect around the community. As an advocate for kids. It was an honor to be able to work side by side with a guy with that kind of history."
In addition to the Women's Hockey Hall of Fame recognition Schmitz has received several awards over the years for his contributions to hockey and the community. He was a charter member of the FHS Athletic Hall of Fame in 1992 and has been named Farmington's Citizen of the Year. He has been recognized with the WCCO Good Neighbor Award and in 2005 he received the Don Clark Award, named for his longtime friend and the man who got him started founding youth sports leagues in Farmington. Schmitz received the President's Award from the Minnesota Amateur Hockey Association in 1967.
He retired from Dakota Electric in 1984 after 34 years with the company. He was a life member of the Farmington VFW.
Schmitz is survived by his wife of 62 years, Jean; and children Sandy (Dan) Pudil, Randy (Nancy), Billy (Sue), Ricky (Chad), Shelly Schmitz, Tommy (Melissa), Bobby (Michelle), Jody (Bob) Slette and Lisa Guse-Schmitz. He is also survived by 12 grandchildren and six great-grandchildren, siblings Lucille Desotell, Marilyn Newton and Tony (Crystal) Schmitz.